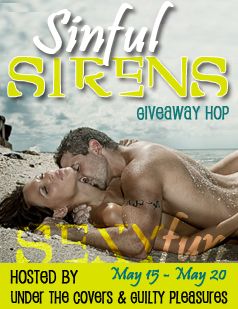 For all the new peeps, Welcome to All the Fun Starts After Dark, to my awesome followers, Welcome back! Today kicks off the Sinful Sirens Giveaway Hop and I can't wait to see what steamy reads everyone is giving away! Big thanks to
Under The Covers
and
Guilty Pleasures
for hosting this HOT hop! At this stop you have the chance to win a fantastic prize, I'm giving away one paperback copy of Dire Needs by Stephanie Tyler, A Stephanie Tyler tote bag and bookmarks!
Blurp from Goodreads:
The full moon is their mistress. They are predators of pleasure and pain. Feared by humans, envied by werewolves, the Dire Wolves are immortal shifters, obeying no laws but their own bestial natures. Once they were many, but now only six remain, a dangerous wolfpack forever on the hunt…
Rifter leads the pack, embracing the lifestyle and ethics of an outlaw biker even as he battles an ancient enemy who has become a new, powerful force. But with his Brother Wolf raging inside him, howling to be unleashed, he needs to satisfy his hungers. And when he meets a drop-dead gorgeous blonde drinking alone in a bar that caters to both human and inhuman, Rifter's primal instinct is to claim her. Gwen has her own desires, long unfulfilled. She hopes a passionate night with the leather-clad, Harley-riding biker will ease her suffering. The seizures that have wracked her body her entire life are incurable—and they're killing her.But none of that will matter if Rifter can't stop the growing threat to them all–trappers who are determined to enslave humankind and use the Dire wolves as part of their nefarious plan
Giveaway is open to US/INT, Winner will be announced right here as well as FB, Twitter and winner will be emailed. You will have 7 days to claim your prize or a new winner will be picked. Thanks for stopping by, happy hopping! Full list of Hop stops is below!
a Rafflecopter giveaway